Introduction
The Dashboard View can be accessed when entering a project and will give you access to all panels for configuration and management of motion capture input devices and data.

General Settings
To access general Studio settings, click on Rokoko logo top left corner of the scene.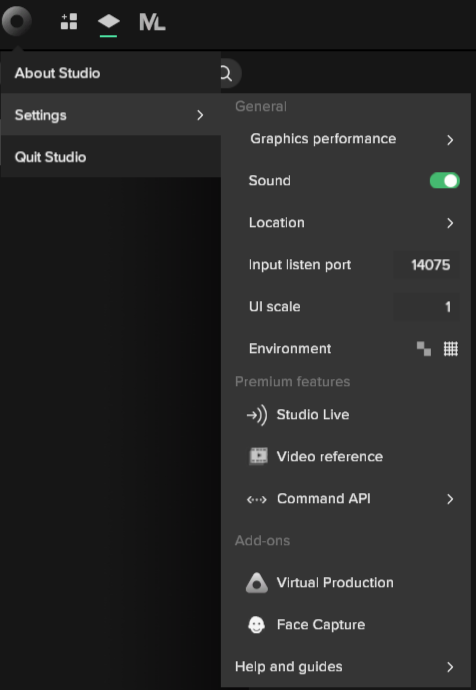 Graphics Performance
You can change the graphics performance of Studio by shifting the button position to low, medium or high.
If you are running a low specification computer, lowering the graphics performance will ensure you can run Studio smoothly. This will not affect the quality of the recorded motion data.
Sound
Rokoko Studio currently gives sound feedback when starting and stopping recordings. This feature will be expanded in future releases. To activate or deactivate sound, simply toggle the button.
Location
Enter your geographical location manually by navigating to the settings (settings cog icon in the top left corner of the Scene View). You can specify your 'Country' and 'City' and click "Apply to Smartsuits".
Input Listen Port
The Smartsuit Pro listen port is the port to which Studio will listen to to receive Smartsuit pro data. You can specify the port you prefer, simply make sure that it is the same you apply in both the Smartsuit Pro listen port and Smartsuit Pro receiver port in the WiFi configuration panel.
Checkerboard and Grid Environments
Rokoko Studio allows you to toggle between two different environments - Checkerboard and Grid. Environment:
Checkerboard Environment:
Premium Features and Add-Ons
Rokoko Studio includes several features that are premium and are marked with a lock icon. To unlock the features, log into Rokoko ID, create a Team and subscribe to the plan that includes the features you need. See a full overview of features, plans and prices here.
Scene Camera Controls
You can change the camera controls in Rokoko Studio in two ways:
At the top of the scene view, click the three camera control buttons to:

Reset the camera angle to top, front, back or bottom
Follow the avatar in the scene
Mirror the scene and avatar

Use your mouse and keyboard: see here for the full list of shortcuts.
Input Device Configuration
You can connect, configure and mange your motion capture input devices via the right hand side panel.