Getting Started Video Tutorial
Signing In
Before you can start using Studio, you will need to sign in to your Rokoko ID. If you haven't already created an account, please go ahead and create one first.
Signing Up
To sign up you simply need to click on the sign up link while on the sign in page and fill out the form and follow the described steps.‌
Teams Explained
In order to use the many premium features available in Rokoko Studio, it is necessary to create a team.
After you have signed in you will be prompted to select a team. If you do not have any active subscriptions you can only access your personal account, otherwise select one of the other active teams.‌
Upgrade and manage your plans and subscriptions
More information on creating and managing your team can be found in this article.
‌Switching team
Since you can create multiple Teams, and because you will have a "Personal" Team created by default, you are free to switch between Teams at any time through the account settings icon in Studio.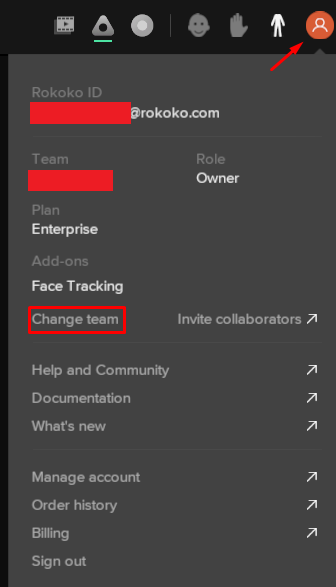 ‌Offline Mode
When signing into Rokoko Studio, to validate the authentication, a stable internet connection is required. Once you are logged into Studio, you can work offline for 24 hours before you need to log in again.
Tip: if you are shooting on location and don't have access to an internet connection, create a WiFi hotspot with your Smartphone to log in. You can then revert back to the wifi hotspot mode again.