This article gives a run down of the features within Rokoko Legacy.
If you are a Smartsuit Pro II user, please click here to read more about the updated studio software.
Introduction
The Home View is Rokoko Legacy's first visible panel when you enter a Team. It is structured into two sections - Projects and Actor Profiles.

At top left, the header will also give you access to:
The About button

Settings

Quit Studio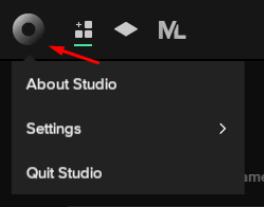 Settings:

Projects
Projects will keep your different motion capture projects structured and organised. You can create as many projects as you like as well as assign default Actor Profiles to them (simply drag and drop actor profile icons on the project you want to assign them to).
Actor Profiles
Actor profiles are individual user profiles that contain body measurement data of an individual. Entering precise values will ensure that the character rig will be scaled to the measurements of the actor, and in turn can help with accuracy and precision in your motion data with the Smartsuit Pro.
When in doubt whether or not you correctly measured an actor's joints, simply enter your actor's height and foot length. Entering erroneous measurements will make more harm than good, so height and foot length measurements on their own are a great place to start.
The amount of body profiles you can save depends on the type of subscription plan you are currently on.
To create an actor profile, click on "+".
You can also create an actor profile directly from within the Dashboard View.