In this article:
This is the set up guide for Rokoko Legacy. *Please note, for optimal performance we recommend instead using Rokoko Studio*
Download Links
Rokoko Legacy allows you to configure, preview, record, and forward Smartsuit Pro body motion data.
Before opening Rokoko Legacy, make sure to disable all firewalls on your computer and network as it might prevent the Smartsuit Pro from communicating with your computer.
More information on disabling your firewall can be found here..
Please make sure to complete the following:
Create a project
Getting Started Video Tutorial
Signing In
Before you can start using Studio, you will need to sign in to your Rokoko ID. If you haven't already created an account, please go ahead and create one first.
Upgrade and manage your plans and subscriptions
More information on creating and managing your team can be found in this article.
‌Switching team
Since you can create multiple Teams, and because you will have a "Personal" Team created by default, you are free to switch between Teams at any time through the account settings icon in Rokoko Legacy.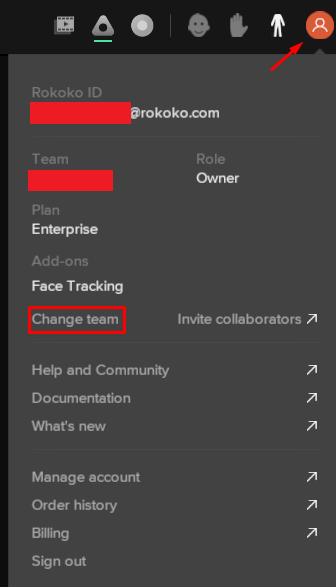 ‌Offline Mode
When signing in to Rokoko Legacy, it's important that you are using a stable internet connection to validate your authentication. After having logged into Legacy, you can work offline for 24 hours before you need to log in again.
Tip: if you are shooting on location and don't have access to an internet connection, create a WiFi hotspot with your Smartphone to log in. You can then revert back to the WiFi hotspot mode again.
WiFi Settings Panel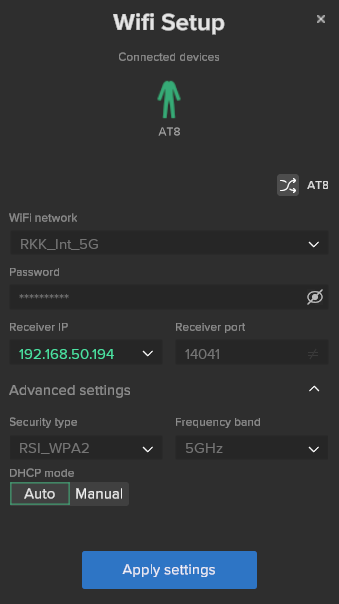 AT8 (different every time) - A human readable name for the Smartsuit/Smartgloves. Clicking on the arrows icon should change the ID.
WiFi network - The name of the WiFi network you want to connect your Smartsuit to. This is also called SSID. When you click the dropdown, Rokoko Legacy will start looking for WiFi networks available to you. If you don't see the one you have in mind, just wait a little. The list updates every five seconds.
Password - The password of the WiFi the Smartsuit should connect to.
Receiver IP - Your computer's IP address. We have made it easy for you by showing the available IP addresses but you can always double check you are using the correct one by following this article.
Receiver Port - The port which is used by Smartsuit Studio to receive messages from the Smartsuit Pro. Default value is 14041.
Security Type - The security type used by the WiFi router.
Frequency band - The frequency band of the WiFi router. You can select 2,4 or 5,0 GHz or Dual Band.
DHCP mode - If set to Automatic, the router will assign an IP address to the Smartsuit Pro automatically, while Manual would require that you specify the Smartsuit IP and Gateway IP.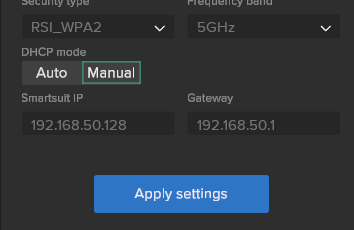 WiFi settings failed to apply
If you didn't succeed, don't panic as it is most likely a WiFi setting issue that can easily be resolved. Please consider the following:
Check that you have disabled all your computer firewalls or anti-virus software such as McAfee (you can instate exception rules later on). Learn more here

Testing a different router and computer (you can even test the connection with a Smartphone hotspot)

Consulting this troubleshooting guide when the WiFi settings fail to apply.
HUB WiFi LED Explanation
Smartsuit Pro Diagnostics Panel
To access the diagnostics panel, click on the character inside Rokoko Legacy (whom we lovingly refer to as Newton) and it shall appear in the bottom-right corner.
Sensor colour indicators
Each of the 19 sensors of the Smartsuit Pro can take several colours in the diagnostics panel. Here's what the colours mean:
Green: stable connection.
Yellow: sensing magnetic interference.
White/Red/Grey: firmware/cable issue.
Frame rate
The frame rate, in fps, will remain stable at around 100fps as long as your WiFi network is stable enough to support it. When making a recording, should the frame rate drop, upon export Studio will interpolate to stabilise the frame rate at 100fps.
Switching between Newton and skeleton rig view
You can switch from Newton (neutral character mesh) to a skeleton-like figure by clicking on the icon at the bottom right corner of the diagnostics panel.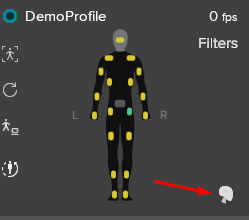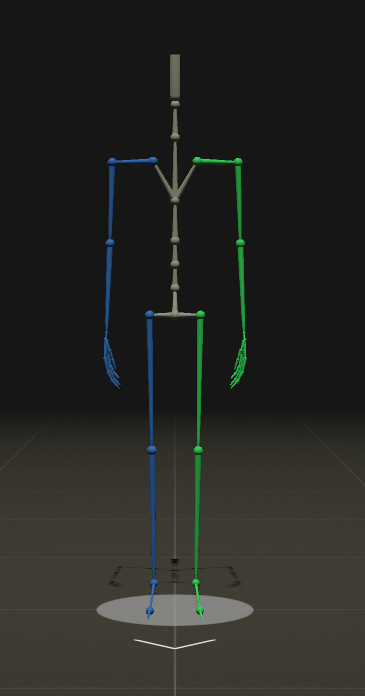 Start Creating - Calibration: Straight Pose
Performing the calibration is arguably the most important step in the configuration process, so make sure not to rush through it.
Perform a "straight pose" (also called I-Pose), to calibrate the system by standing upright (but in a relaxed stance) with:
Your arms down the side of your body touching your thighs/legs (see chart below).
Your head pointing forward (see chart below).
Your feet pointing straightforward (parallel) with a spacing of about 15cm between them. Tip: That spacing is pretty much your foot's width, so imagine you have a third foot in between your feet).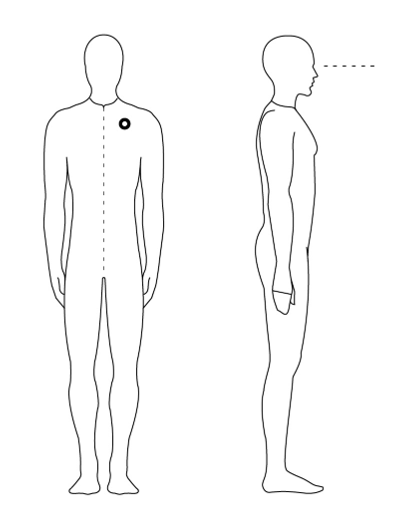 Remember to stand still while the software counts down from 3 once you click the "straight pose" button: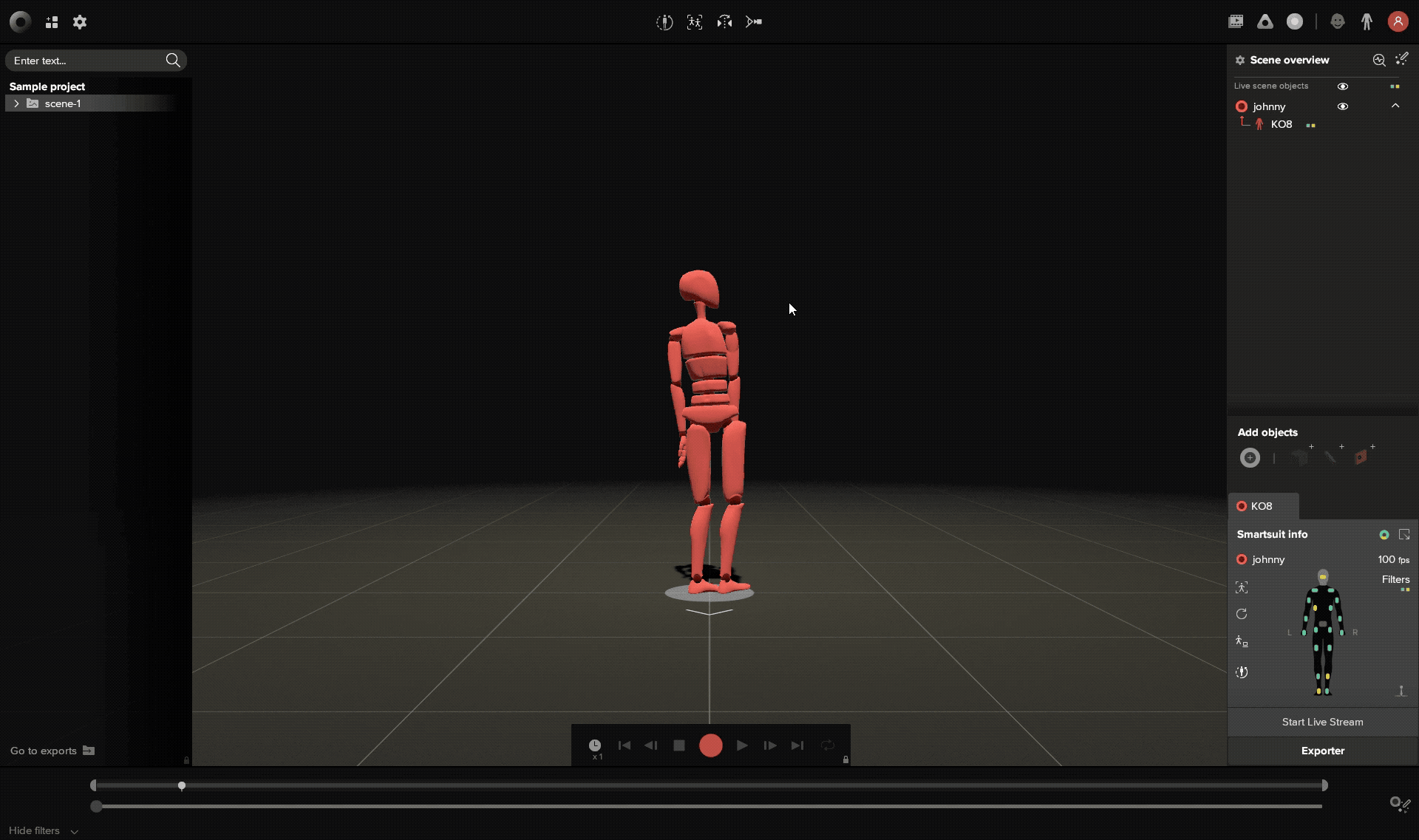 Recording, Filters and Playback
For more Information on recording, playing back, exporting and applying filters please read our article on the topic here.
Exporting your data
You can export your recordings in a variety of file and skeleton formats. Please see this article for more information.
Rokoko Legacy Features & Subscriptions
By default, Rokoko Legacy is free when it comes to the core features. To gain access to advanced premium features such as Rokoko Studio Live, Face Capture and Virtual Production (which are marked with a lock icon) you will need to subscribe to a Rokoko subscription plan. More information on the available plans can be found here
Rokoko Studio Live (Real-Time Data Streaming to the plugins)
Using our native plugins will allow you to unlock the Smartsuit Pro's full potential. Working with the plugins will allow you to apply Smartsuit Pro data (as well as Face tracking and Virtual Production data) to your own characters in real-time while working in the software environment you are familiar with.
More information on Rokoko Studio Live can be found here
Face Tracking
With our Face Tracking Add-On, you can record or live stream facial motion data both by yourself or in sync with the Smartsuit Pro (and Virtual Production), directly inside Rokoko Studio or in the plugins. Learn more about this feature here
Virtual Production
With our Virtual Production Add-on, you can record or live stream HTC tracker motion data, both by itself or in sync with the Smartsuit Pro (and Face Tracking), directly inside the Rokoko Studio or in the plugins. Learn more about this feature here
Command API, SDK and Custom Integrations
Troubleshooting