You managed to connect the Smartsuit Pro in Rokoko Studio, but you notice that some, or all of the sensors of your Smartsuit Pro don't work. Sensors can fail for one of two reasons:
During a firmware update, some or all the sensors got stuck in bootloader mode.

Sensors are physically damaged.

A cable connecting a sensor is physically damaged
Note: For Glove - Ready edition, please disconnect the Smartgloves from the Smartsuit!
Sometimes during a Firmware update sensors can get stuck in the bootloader mode. This can for example be caused by unplugging the USB-C cable before the update has finished successfully, or if the hub was underpowered during the update. This results in not fully functioning sensors that are constantly blinking green or lighting blue (physically, not in Studio) and are displayed grey or white in the Rokoko Studio diagnostics panel.
Below is an example of grey sensors not responding :
Studio Legacy Studio Beta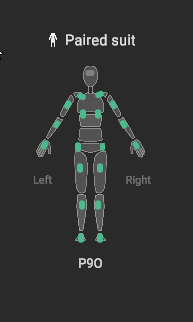 Below is an example of Smartsuit Pro appearing as folded :

Hub Log
Open Rokoko Studio Legacy.
Connect the Smartsuit with the external USB-C provided by us. ​(if you have Smartsuit Pro II, connect both USB-C to A cable from HUB to computer and USB-A to battery)
Hold "CTRL" and double-tap "SHIFT".
A window should now open.

Search for "Read Hub Log".
Click "Execute".

It should now open a file explorer window with the log files (rkk_USB_Logger_Date.log and usb_hub_Date-Time.log). Please zip them and send zip file to support@rokoko.com

It would help greatly if we could also have an image of the diagnostics panel in Studio, like the one below:
​​
Please do not use any previous files or/and methods.
Additionally, identify which sensor(s) may have issues(should show white/red) and then
provide us the LED color of these sensor(s), physically
.